In the 90s, you could land a high-paying job in the field of information technology with just a high school diploma. Unfortunately, that doesn't always cut it anymore. While some older professionals have been "grandfathered" into the field, many employers expect new IT leaders to have a degree.
But that's actually a good thing. It means you're going to start your career knowing how changes in technology and digital infrastructure can help or hamstring organizations, and you'll have the technical know-how to protect, organize, and utilize information to help your organization get ahead. You'll be more prepared than '90s IT professionals ever were—and maybe even better equipped than they currently are. (OK don't let it go to your head though.)
You don't have to move across the country to get an education in information technology. There are countless online IT degree programs that can land you the credentials and expertise you need to start your career. To help you sort through them all, we've used data from The National Center for Education Statistics and the average ratings from school-ranking entities like TheBestSchools.org, BestColleges.com, AffordableCollegesOnline, and U.S. News and World Report—so this list of the top 10 online IT programs is the best of the best.
We'll show you each school's:
Tuition cost
Program length
Graduation rates
Awards and accolades
Anything else we think will help you decide
Let's find a school you'll love! For starters, here are some highlights:
Most affordable
If you live in Oklahoma, Oklahoma State University Institute of Technology is the most affordable of our top-ten schools. It's #4 on our list, and it'll cost you about $5,000 per year. For everyone else, Colorado State University's Global Campus (#3 on the list) is the best price, coming in at about $8,000 per year. So if affordability is important to you, take a good look at these two schools.
Highest graduation rate
Penn State University is #2 on our list, and it boasts an incredible 86% graduation rate. This is great news for people who want to focus on getting into the field—almost 9 out of 10 students finish the program. For a specialized field like IT, that's hard to come by.
Best job placement rate
A lot of schools don't tell you their job placement rate, or the employment rate of their graduates. University of Minnesota-Crookston (#5 on the list) will be very happy to inform you that they have a 93% placement rate within six months of graduation. So if you get your IT degree from there, the job is kind of yours to lose, really.
Now, onto the top ten!

Tuition cost:
In-state: about $10,000 per year
Out-of-state: about $26,000 per year
Program length:  about four years
Graduation rate: 67%
Accreditation:
Higher Learning Commission
Engineering Accreditation Commission of ABET
Awards and accolades:
Rank on U.S. News and World Reports: 1
Rank on TheBestSchools.org: 3
#5 university in the nation for producing the best qualified graduates
At ASU's prestigious Ira A. Fulton Schools of Engineering, "Students are engineers from day one–they don't have to wait until they are juniors to be engineers."
Almost every semester at ASU Online, you'll work in teams to create and present project-based solutions to IT problems. This will be a major focus of your last two semesters in the program.
You'll choose one of three specializations in the IT program:
Networking and security
Information management
Enterprise computing
Any of these specializations will give you a wide range of career options.
By the time you complete your degree, you'll have the skills you need to:
Create network architectures within a cybersecure infrastructure
Configure and administer complex computer and database systems
Evaluate networks using cybersecure tools and techniques
Design and process interactive information management solutions
If that all sounds intimidating to you, don't panic. You only need a 2.0 cumulative GPA to graduate. And you'll have an incredible team of faculty to support you. Here's what ASU Online says about the online faculty:
"Students enrolled online through Arizona State University have the opportunity to learn from some of the best and brightest in their fields, as our online courses are taught by the same internationally recognized and award-winning faculty members who teach in our on-ground programs."
The more than 320 faculty members at Ira A. Fulton Schools of Engineering have been honored with some of the highest awards in their fields. These professors include:
A Nobel Laureate
National Academy of Engineering members
National Academy of Sciences members
National Academy of Inventors members
National Academy of Construction members
Young Investigator award-winners (more than 55 received in the last 10 years)
In this video, ASU's professors share what makes online learning so appealing—and if you ask me, it's one of the best pitches for attending class online, period:
Basically, it's way easier to participate in class discussions (that one guy you know won't dominate the conversation), and online students actually perform in the industry as well as on-campus students.
Before you load up on classes, you should know that ASU expects you to spend 6 hours on coursework every week for every credit you take. So if you take two or three classes, you should probably prepare to spend 36-54 hours on coursework per week. (Courses are 7.5 weeks long.)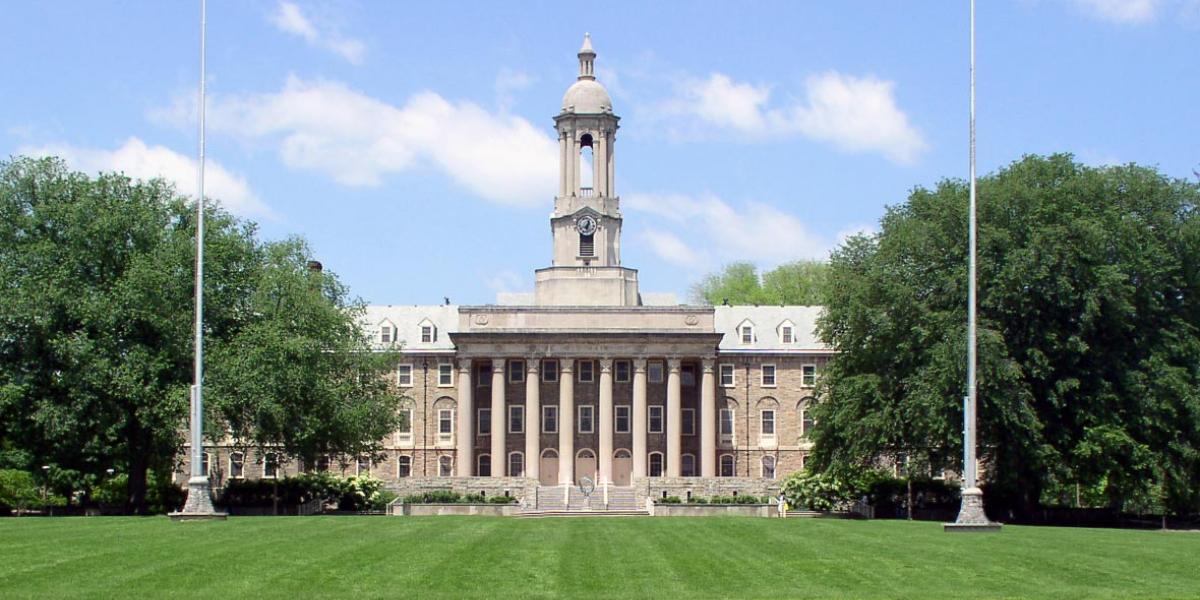 Tuition cost: about $14,000 per year
Program length:  about four years
Graduation rate: 25%
Accreditation: Middle States Commission on Higher Education
Awards and accolades:
Rank on TheBestSchools.org: 1
Rank on BestColleges.com: 5
The curriculum at Penn State's College of Information Sciences and Technology is career focused, helping you make a successful transition to the corporate world.
As an online student with Penn State, you'll have what they call the "Penn State advantage":
"Penn State's College of Information Sciences and Technology is a leader among an emerging group in higher education known as i-schools, or information schools. Your faculty members in this online program are the same faculty who teach our respected on-campus programs. They are a diverse group of thought leaders from numerous fields, including computer science, engineering, psychology, chemistry, artificial intelligence, and more."
The website says online students can expect "technology to support your learning goals, not simply for convenience," but it's unclear if that means students receive software, or something else.
While you might be set on getting your bachelor's degree, Penn State Online encourages busy students to consider "building credentials along the way." You can take incremental steps that naturally transition into the degree you want, and each step can open new doors and career opportunities for you. You could earn a certificate in IST programs or an associate's degree in IST while working towards your bachelor's. Many of the courses you'll take for these smaller programs directly apply to the bachelor's degree program.
Learn more about what it's like to be an online IST student from a couple of Penn State graduates: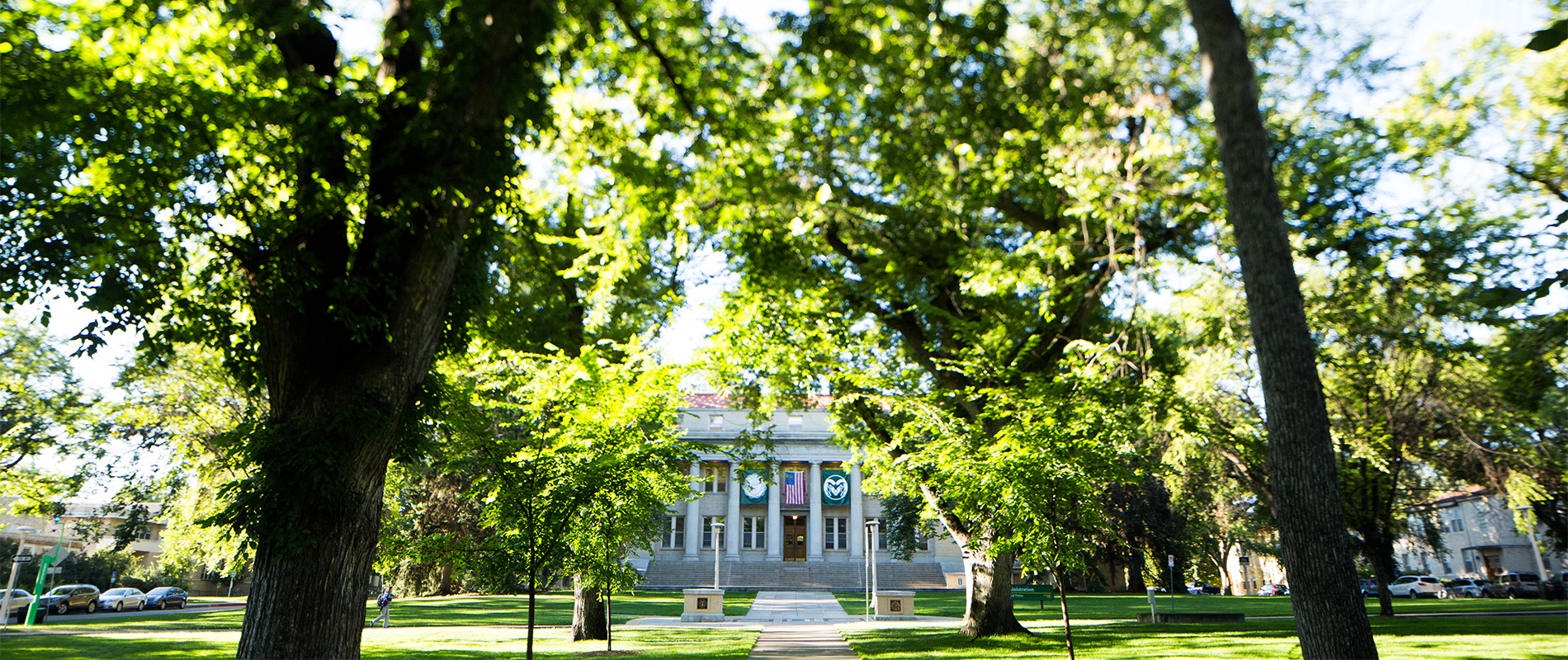 Tuition cost: about $8,000 per year
Program length: about four years
Graduation rate: Not listed
Accreditation: Higher Learning Commission
Awards and accolades:
Rank on U.S. News and World Report: 3
Rank on TheBestSchools.org: 6
CSU can give you the technical knowledge you need to get ahead in the field of IT, but they expect you to bring a passion for technology to the table:
"Our undergraduate degree in information technology program prepares you for real-life situations so you can actively apply your extensive knowledge of computers, programming, and all IT-related tasks to the professional world. . . . If you have a natural aptitude for working with electronics, this may be your ticket to a career that you love."
CSU's IT program offers more than 20 specializations as 15-credit add-ons, including:
Whew. For a quick blurb on each of these, scroll down to the "specializations" tab here.
CSU-Global is an official partner of the Computing Technology Industry Association, so your education here will prepare you for several major CompTIA certification exams. You'll also get discounts on the exams for being a CSU student, which cost everyone else hundreds of dollars.
Note: This isn't a Mac-friendly program. CSU says "To be successful in the program students must have access to a Windows-based operating system and the Microsoft Office Suite."
Fun fact: While most schools increase tuition costs over time, CSU's Global Campus locks your tuition rate for the duration of your studies, so you pay the same price every year.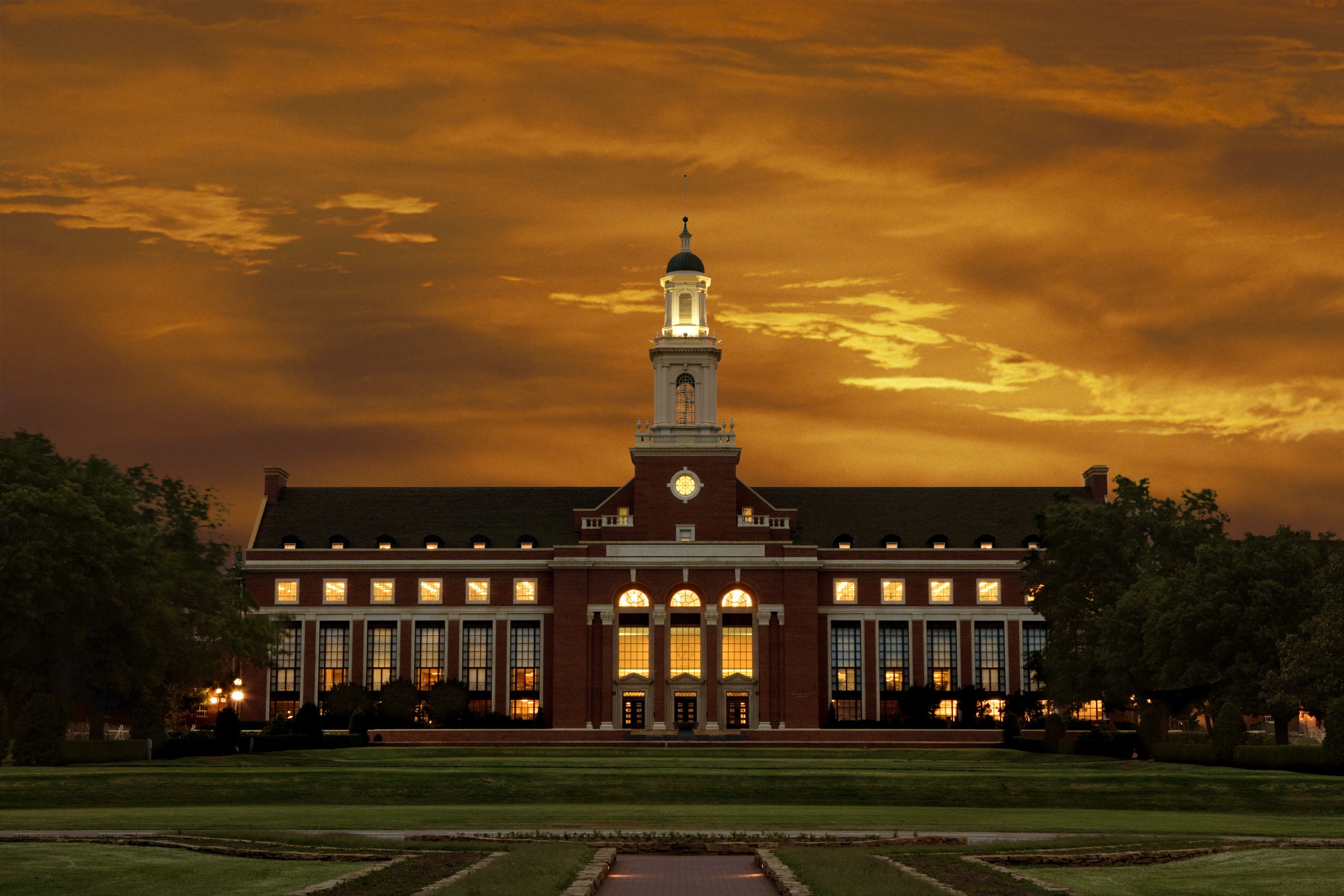 Tuition cost:
In-state: about $5,000 per year
Out-of-state: about $11,000 per year
Program length: Not listed
Graduation rate: 32%
Employment rate: 87% (based on limited data)
Accreditation:
Higher Learning Commission
Board of Regents for Oklahoma State University and the A&M Colleges
Oklahoma State Regents for Higher Education
Oklahoma State Accrediting Agency
Awards and accolades:
Rank on AffordableCollegesOnline: 1
For residents of Oklahoma, OSUIT is the most affordable school on this list. For everyone else, it's still pretty affordable. But just because it's cheap doesn't mean it's easy: only one third of all OSUIT students graduate. This is a serious program for serious students.
OSUIT's School of Information Technology is a great program for those looking to explore the full range of the IT field. They put it this way:
"Whether you are new to computers or an experienced professional seeking a credential or certification(s) to further your career, our technology-intensive, application-focused programs help you gain experience in a broad range of information technology (IT) areas, such as computer hardware, networking, operating systems, programming, web development, database, scripting, and IT security."
OSUIT offers three separate bachelor of technology degrees in the field of IT:
Unfortunately, before you're eligible for the bachelor of technology program, you have to have at least an associate in applied science (AAS) in information technology degree.
Before you graduate from OSUIT with a BT in IT, you must complete an internship. Someone from the program will contact your internship supervisor to learn how you progress through the internship.

Tuition cost: about $12,000 per year
Program length: 120 credits
Graduation rate: 54%
Job placement rate: 93% within six months
Accreditation: Higher Learning Commission
Awards and accolades:
The University of Minnesota at Crookston offers a bachelor of science in information technology management. Here's how they describe it:
"The world runs on information technology. With a degree in Information Technology Management, your job is to make things happen. At UMC you will be integrating new and advanced computer technology into an organization's existing infrastructure as well as managing daily operations. With an Information Technology Management degree, you will be involved with mastering new technologies and solving complex problems."
As an IT student at UMC, you'll receive most, if not all of the software you need for free. As an online student, you'll need to take a one credit "orientation to online learning" course.
Online students are still eligible for internships. You can also design and conduct research as an undergraduate through the Undergraduate Research Opportunities Program.
Fun fact: Even as an online student, at UMC you can study abroad!
"Our international recruitment efforts bring students from more than 20 countries, and our Study Abroad program offers more than 300 opportunities for you to study in 67 different countries. There are also numerous cultural activities and clubs to participate in. We offer many ways for you to expand your worldview, gain international experience, and make connections with people from across the globe."
Note: You can still graduate even if you receive two D's in core courses. This program also requires you to take classes during summer terms.

Tuition cost: about $45,000 per year
Program length: Not listed
Graduation rate: 71%
Accreditation: Higher Learning Commission
Awards and accolades:
Rank on AffordableCollegesOnline: 2
As an online student at IIT, you'll not only work with faculty and fellow students, but corporate partners, too. As you work to solve today's industry problems, you'll also build a professional portfolio.
IIT says you can expect the following from their bachelor of technology and management program:
The theoretical principles you learn in the classroom are integrated with applied hands-on laboratory work.
You'll have the opportunity to apply what you learn to real-world situations through project-based learning, mentored by Illinois Tech faculty.
The seven specializations are career-focused to make you more qualified for future employment (or you can take the general course of study to dabble in them all).
You'll learn about a variety of IT fields including Web and application development, system architecture, networking, database systems, systems security, contemporary programming languages, and more.
You'll learn practical skills so you can integrate information technology and management into your daily work.
The curriculum integrates IT disciplines of management, development, technology and theory, operations, and security.
Hear what students have to say about the ITM program in this video:
A special degree program through IIT's School of Applied Technology lets undergraduates earn both their bachelor's and master's degree in as little as five years.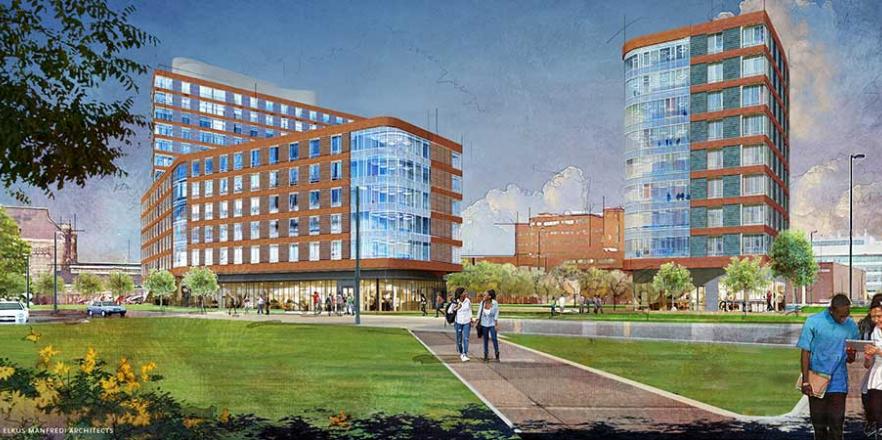 Tuition cost:
In-state: about $15,000 per year
Out-of-state: about $32,000 per year
Program length: 120 credits
Graduation rate: 76%
Accreditation:
New England Association of Schools and Colleges
Commission on Institutions of Higher Education
Awards and accolades:
Rank on TheBestSchools.org: 2
Rated the 19th best university in the world by the Times of London
21st Century Best Practices Award from the United States Distance Learning Association
Program of Excellence Award from University Continuing Education Association
Excellence in Online Teaching—Sloan-C Excellence Awards
University of Massachusetts Online believes that as the world becomes increasingly dependent on technology, educational opportunities equipping people to utilize and manage that technology should be more accessible:
"The need for professionals with a strong information technology background continues to increase as business, government, schools, and other organizations seek new applications for computers and networks in the workplace."
This foundational education is designed to give you everything you need to adapt as the field of IT continues to evolve.
To help you get a feel for what it might be like to be a student at UMass Online, they've prepared a six minute course demo for you.
Note: As of the time we wrote this post, if you live in Arkansas, Kansas, or Minnesota, UMass Online will not accept you.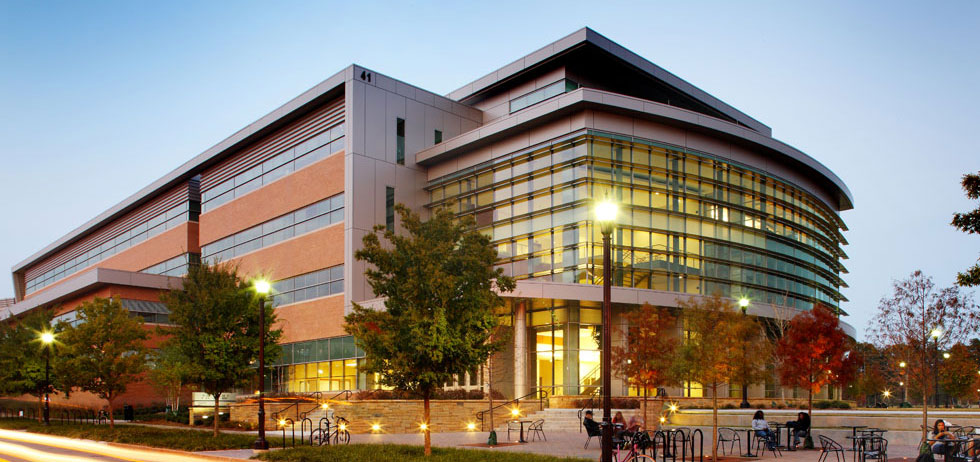 Tuition cost:
In-state: about $6,000 per year
Out-of-state: about $17,000 per year
Program length: 121 credit hours
Graduation rate: 42%
Accreditation:
Southern Association of Colleges and Schools
Commission on Colleges
Accreditation Board for Engineering and Technology
Technical College System of Georgia
Awards and accolades:
"IT emphasizes the integration and performance of information technology planning, development, implementation, and operation, and development of the infrastructure to support the processes necessary to achieve organizational objectives. The BSIT degree has core requirements, major requirements and required electives. The major contains those courses considered fundamental to the information technology field and the technical electives give the student flexibility in choice of concentration."
The four concentrations offered in KSU's BSIT program are:
Enterprise systems
Information assurance and security
Health information technology
Mobile and Web development
If you're looking at online programs because you think they'll be easier than going to school on campus, KSU wants students to understand the distinction between a more convenient program and an easier program:
"To give you a point of reference, for a 3-credit hour online course in a typical 16-week session, a student should expect to spend approximately 6-9 hours per week engaged in class work. In the summer semester, with the compressed 8-week schedule, the time dedicated per course will significantly increase.
"The notion that online courses are easier is not true. They are more convenient, but still require the same dedication and attention as a face-to-face course. . . . While the benefits [of distance learning] are many, students that enroll in an online course because they believe it is easier, soon learn differently. Self-motivation and discipline are required to succeed in distance learning courses."
KSU offers an online readiness assessment to help you decide if you're ready to commit to an online degree program.

Tuition cost: about $31,000 per year
Program length: about 16 months
Graduation rate: 60%
Accreditation:
Western Association of Schools and Colleges (WASC) Senior College and University Commission
Engineering Accreditation Commission of ABET
Awards and accolades:
Rank on U.S. News and World Report: 2
California Baptist University offers what is perhaps the fastest path to a BS in IT with their computer information technology program. The average time it takes to complete the program is 16 months.
"Computer Information Technology professionals are the ultimate problem solvers when it comes to all things computer-driven, and this major teaches students how to do and manage it all—from developing a website application to managing a database to managing a server, from setting up or identifying problems in complex networks to determining which computer hardware will deliver the best solution to a business or personal need.
"The online Bachelor of Science in Computer Information Technology degree equips students for significant roles in the strategic success of organizations and their technology operations. Students will acquire knowledge in a wide variety of computer technology disciplines from Internet applications, databases, and networking applications to programming, project management, and computer security. Computer information technology courses give students an outstanding technology foundation in several areas including building skills in strategy, innovative problem-solving, and critical thinking relevant to today's global technology environment.
In addition to the education you'd receive in other IT programs, California Baptist University includes two courses in Christianity and one course in ethics (which presumably approaches problems from a Christian perspective).
Here's how they describe the way this connects to your IT education:
"The online Bachelor of Science in Computer Information Technology degree program is designed to take students through a journey that embraces personal, professional, and spiritual transformation. Students graduating from the program will be equipped to address issues in a global context, with the ethical standards of a Christian heritage. In addition, students will leave the program with the capacity to self-reflect, think critically, lead and engage others, and make effective decisions."

Tuition cost: about $27,000 per year
Program length: as little as 16 months
Graduation rate: 45%
Accreditation:
Southern Association of Colleges and Schools
Commission on Colleges
Awards and accolades:
Rank on AffordableCollegesOnline: 9
King University's B.S. in IT program allows students to choose from three concentrations:
Cybersecurity
Network management
Information systems
You won't just be equipped with the technical skills you need to enter the field of IT, though. IT overlaps with numerous other aspects of business, and King University wants students to be prepared to work in that overlap:
"The online information technology degree also prepares professionals for various technical career paths that require superior business skills as well as communication and critical-thinking skills. The Bachelor of Science in Information Technology is a must-have credential for any individual who seeks management or administrative and strategic positions within their organization, desires to pursue research or continue with graduate studies in the field."
The online courses are the same as the ones offered on campus.
The time it takes to finish your degree at KU may appear to be the same as California Baptist University above, but in order to enroll in the BSIT program at KU, students have to already have 45 semester hours. And since it takes 16 months to complete the BSIT program (which is a 48 hour major), you're probably looking at another 16 months. And then it takes a total of 124 semester hours to graduate from KU (this program plus your prior education brings you to 93). So it's a little misleading for them to say you can complete the program in 16 months.
A quick note on transferring schools
According to the National Student Clearinghouse Research Center, more than one third of all college students transfer schools before graduating. In order to transfer your credits from one school to another, the two schools usually have to be accredited by the same organizations. Thankfully, four of the schools on this list are accredited by the Higher Learning Commission, so if you choose one of them, you'll have a lot less trouble transferring to another great school.
The best school is really up to you
We can't tell you exactly which school is the best choice for you—and you shouldn't let anyone else do that, either. You have to weigh the factors that are most important to you and let that guide your decision. Choosing a school is a huge investment—both in terms of what it immediately costs you and how it affects your life. So take your time.
It's also worth noting: while we used existing "best of" lists to show you only the best of the best online IT degrees, there were very few schools that these other lists agreed on! If anything, we hope that's encouraging to you—people who make their living rating schools couldn't even agree on the best ones. So whatever you choose, as long as it's right for you, it's probably going to be the best choice.
We hope this list has helped make the decision a little easier for you. Good luck in your future studies!