Take a look at some of the most successful tech companies of our time and you'll notice they all have something obvious in common: stellar design. Companies like Microsoft, IBM, Disney, and Google need elegant websites, apps, and media—and to get these, they need talented designers. A degree in graphic design helps you tap into the software, tools, and concepts design professionals use lto:
Design visually compelling websites
Craft clear, useful signage, infographics, ads, apps, and more
Communicate brand in every piece of media
Create animations
Produce digital works of art
And more . . .
You don't have to move across the country to develop this blend of technical skills and creative prowess. There are countless online graphic design programs that can land you the credentials and expertise you need to start your career. To help you sort through them all, we've used data from The National Center for Education Statistics and the average ratings from school-ranking entities like TheBestSchools.org, BestColleges.com, AffordableCollegesOnline, and Graphic Design Degree Hub—so this list of the top 10 online graphic design programs is the best of the best.
Other lists of top online graphic design programs have included some programs not available online. We called some of these schools to confirm that their programs were fully available online, and cleaned up our list accordingly.
We'll show you each school's:
Tuition cost
Program length
Graduation rates
Awards and accolades
Anything else we think will help you decide
Let's find a school you'll love! For starters, here are some highlights:
Lowest tuition
Bellevue University has the lowest tuition rate ($7,000 per year), and it comes in at number three in our list. However, if you happen to live in Florida, University of Florida's in-state tuition is about $3,000 cheaper per year. UF is number eight in the list.
Highest graduation rate
Almost nine out of ten University of Florida students graduate. Unfortunately, the graduation rate for their online campus isn't listed, but for their main campus, they have a rate of 87%.
Best job placement rate
Savannnah College of Art and Design is actually the only school on this list that provides their job placement rate. Not all schools are required to provide it, and if they don't have an official job placement program, it's not always in their best interest to provide it. SCAD, however, has an astounding job placement rate of 98% for the school overall. This percentage includes those enrolled in graduate programs too though, so it's not just accounting for jobs. SCAD is also our number one recommended school for online graphic design.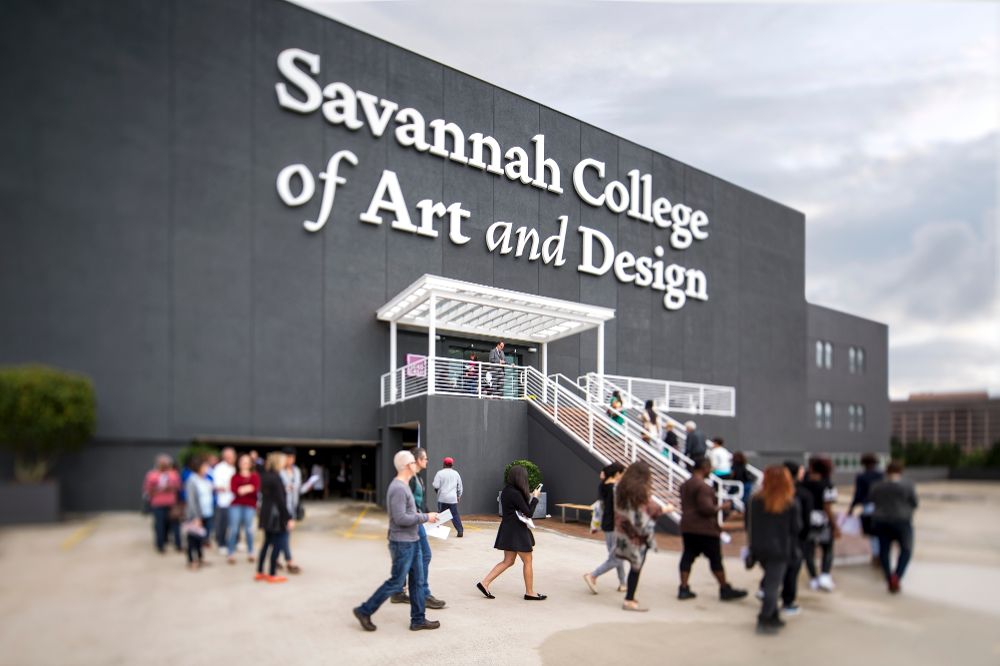 Tuition: about $36,000 per year
Program length: 180 credit hours for a B.A. or B.F.A.
Graduation rate: 67%
Job placement rate: 98%
Accreditation: Southern Association of Colleges and Schools
Awards and accolades:
Rank on TheBestSchools.org: 1
Rank on BestColleges.com: 4
Rank on Graphic Design Degree Hub: 6
Graduates from SCAD's graphic design programs have found jobs at prestigious companies like Disney, Google, Facebook, and Microsoft. Well-known designers come from all over the world to speak to students and interact with them. Students begin their studies with the basic building blocks of design, exploring conceptual aspects of art, examining the evolution of design, and developing the specialized skills graphic designers need.
Online students participate through eLearning courses, which are perfect for self-directed learners. All your assignments have clear due dates, and as long as you get them done, you have complete control of your schedule. These online classes have no specific meeting times and class sessions are accessible 24/7. You'll also critique the work of your fellow students and join class conversations through posts on a discussion board.
Your elective credits give you the freedom to explore SCADs related programs. Your core classes delve into the world of graphic design, but you might also want to investigate how your field overlaps with:
Advertising
Digital publishing
Motion media design
Mobile and interactive design
Illustration
Branded entertainment
And other programs
In addition to their academic expertise, SCAD's award-winning faculty bring a wealth of professional experience to the table (including a valuable list of professional contacts). This college exists to serve students who want to navigate the transition from studying a craft to launching a career in it.
But let's hear it straight from the horse's website: "As a graphic design student at SCAD, you'll become fluent in the visual language that defines today's powerhouse brands and top-flight organizations. Our holistic graphic design degree program doesn't just cover the fundamentals of design, it delves into product packaging, entrepreneurship, mobile technology, interface design and user experience. The result? An award-winning professional portfolio, real experience working for industry giants, and the opportunity to make a lasting mark on the ever-changing global visual landscape—all before you graduate."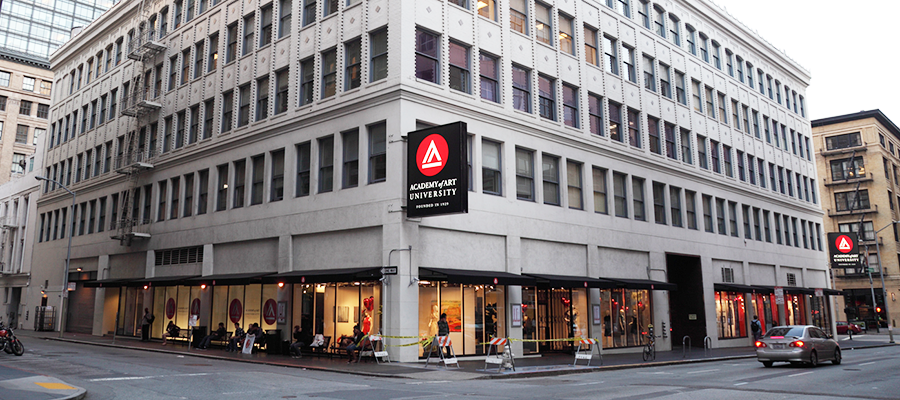 Tuition: About $21,000 per year
Program length: minimum of 2 years for A.A., 4 years for B.A.
Graduation rate: 37% (20% of students transfer to other schools)
Accreditation: National Association of Schools of Art and Design, Western Association of Schools and Colleges
Awards and accolades:
Rank on Graphic Design Degree Hub: 1
Rank on TheBestSchools.org: 2
While the Academy of Art University has existed for nearly 90 years, it remains at the forefront of innovation when it comes to learning. The school has taught graphic design online for over 15 years, and during that time they've mastered the process of teaching over the web.
Students and instructors from all over the world learn together in digital courses uninhibited by rigid class schedules. Every semester, students have 15 "modules" to complete on their own timeline. Coursework includes instructional videos, audio-enhanced slideshows, digital documentation, interviews, and more. Instructors can provide detailed feedback on any submitted work, including audio commentary. An >optional >online discussion area lets students share work, get feedback, and talk through ideas with both classmates and faculty.
Online students get access to a hub of student resources, including an online academic library, guest speaker archive, career help, software tutorials, and more. Online career chats make sure no one misses out on vital professional guidance by being an online student.
You can even check out some class demos right now to see if this online program is a good fit for you.
The Academy of Art University's School of Graphic Design emphasizes conceptual development, strategic thinking, technique, and presentation.
Here's what they want you to know: "Our curriculum guides students as they develop finely tuned skills in the areas of typography, print media, packaging, branding and identity, Web design, and motion graphics. Our instructors are nationally recognized working professionals who challenge students to reach industry standards. Students graduating from this program are well prepared to meet the rigorous challenges within the field of graphic design and are working in many of the world's most prestigious firms. The numerous awards bestowed on our students' work demonstrate our excellent approach to design and audience-based marketing strategies."
For those who don't have time to devote to a four-year degree, an Associate of Arts degree still provides students with a well-rounded foundation in graphic design. The program provides a curriculum of conceptual problem solving, innovation, critical thinking, and formal design, as well as branding and marketing strategies—everything you need to get your foot in the door with entry-level employment.
>At the time we wrote this article, all currently enrolled students receive free access to Adobe Creative Cloud, which includes Photoshop, Illustrator, InDesign, and other programs.
Fun fact: The Academy of Art University hosts more than 70 student and alumni art shows per year.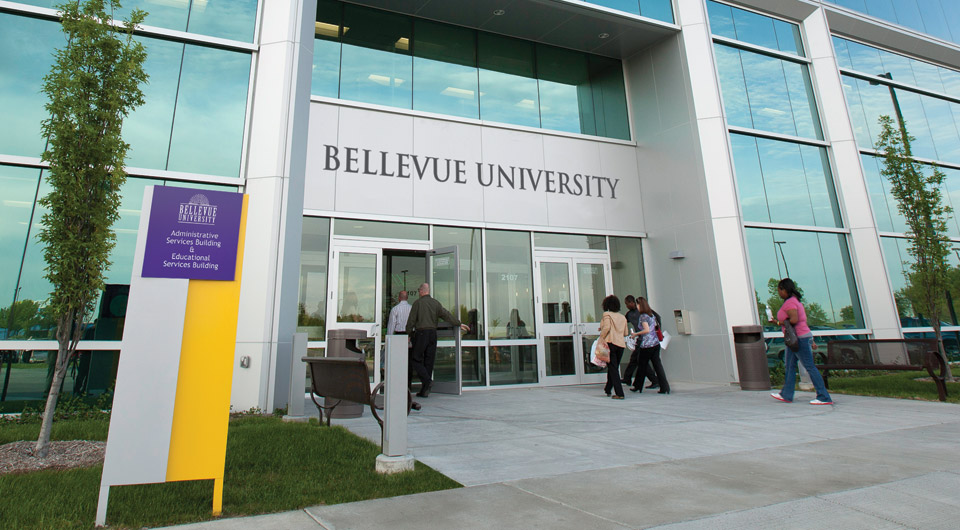 Tuition: About $7,000 per year
Program length: 127 credit hours
Graduation rate: 18%
Accreditation: Higher Learning Commission
Awards and accolades:
2016 Most Affordable Online Degree in Art and Design
Corporate University Best-in-Class
#1 Most Innovative Online University
One of the Top Ten Universities for Adult Learners
Numerous military-friendly awards
Rank on BestColleges.com: 1
Rank on AffordableCollegesOnline.org: 6
Rank on Graphic Design Degree Hub: 8
Of all the top online graphic design programs, Bellevue University's is the most affordable. BU transitions you into a career in graphic design by helping you see how design is part of every product we use, and the role it plays in how every organization communicates. You'll get the foundation you need to interpret the visual world and create aesthetically pleasing, meaningful print and web design.
Bellevue University makes no distinction between its online and on-campus curriculum. Taking courses online with BU doesn't mean you have to compromise on quality of teaching or miss out on important learning opportunities. As an online student, you'll gain a solid understanding of the elements of design and develop creative visualization, problem solving, and critical thinking skills. You'll also learn to conceptualize and communicate multiple design solutions for a wide variety of media for multiple audiences.
Integrating hands-on, applied learning with theory, all Bellevue University degrees are designed to deliver a transformative student learning experience that accommodates your personal and work life. If you're not sure that you're ready for the commitment of an online degree program, Bellevue University has a handy academic readiness tool. A 20 minute assessment could help you decide if this is the right time for you to pursue an online degree.
Over the course of the program, you'll develop a professional portfolio that represents a body of creative design work on a wide range of print and digital design projects. This will become a valuable asset as you pursue a career or explore graduate-level education.
In addition, after completing Bellevue University Bachelor's in Graphic Design, you'll be able to:
Utilize the critical thinking process used in the graphic design field.
Effectively discuss graphic design as a visual communication language.
Skillfully use industry standard software and hardware tools.
Apply the proper production methods in print and/or web design.
Develop a portfolio that represents a wide range of projects produced at a professional level.

Tuition: About $31,000 per year
Program length: 120 credit hours
Graduation rate: 58%
Accreditation: New England Association of Schools and Colleges
Awards and accolades:
Rank on BestColleges.com: 2
Rank on AffordableCollegesOnline.org: 7
Rank on TheBestSchools.org: 9
Let's jump right in and see what SNHU thinks sets them apart:
"Coursework in SNHU's online graphic design degree program is built around training you in aesthetics and creative problem solving using the latest technology, while also providing cultural and social context for the work you do.
"As a private, nonprofit university, SNHU has one mission–to help you see yourself succeed. The benefits of earning your bachelor's in graphic design and media arts at SNHU include:
Advanced technology. Learn how to use the most advanced graphic design hardware and software, including Adobe Creative Suite, with options to learn on a Mac or PC
Affordability. Take advantage of some of the most affordable tuition rates in the nation
Convenience. Attend class when it's convenient for you–online education means 24/7 access
Efficiency and flexibility. Complete your undergraduate degree at your own pace, over six 8-week terms per year
Expert instruction. Get creative direction directly from accomplished, award-winning instructions with real-world experience who understand the creative process
Networking. Tap into our nationwide network of alumni for internship and career opportunities
Simple application process. Just fill out an online undergraduate application, and we'll retrieve U.S. transcripts from your previous institutions and automatically complete an official credit evaluation. Plus, there's no application fee
Student support. Count on the ongoing support of dedicated academic and career advisors specialized in your area of study
Transfer-friendly enrollment. Transfer up to 90 credits toward an undergraduate degree"
A special mentorship program called SNHUcan connects you with a network of SNHU alumni, students, and friends to help you develop your career. Mentors scout new talent and share their professional expertise to help students succeed. As an SNHUcan mentee, you could gain invaluable professional development and career advice from people who have been there.
Fun fact: More than one quarter of your credits come from electives, so you have a lot of freedom to explore other fields or specializations.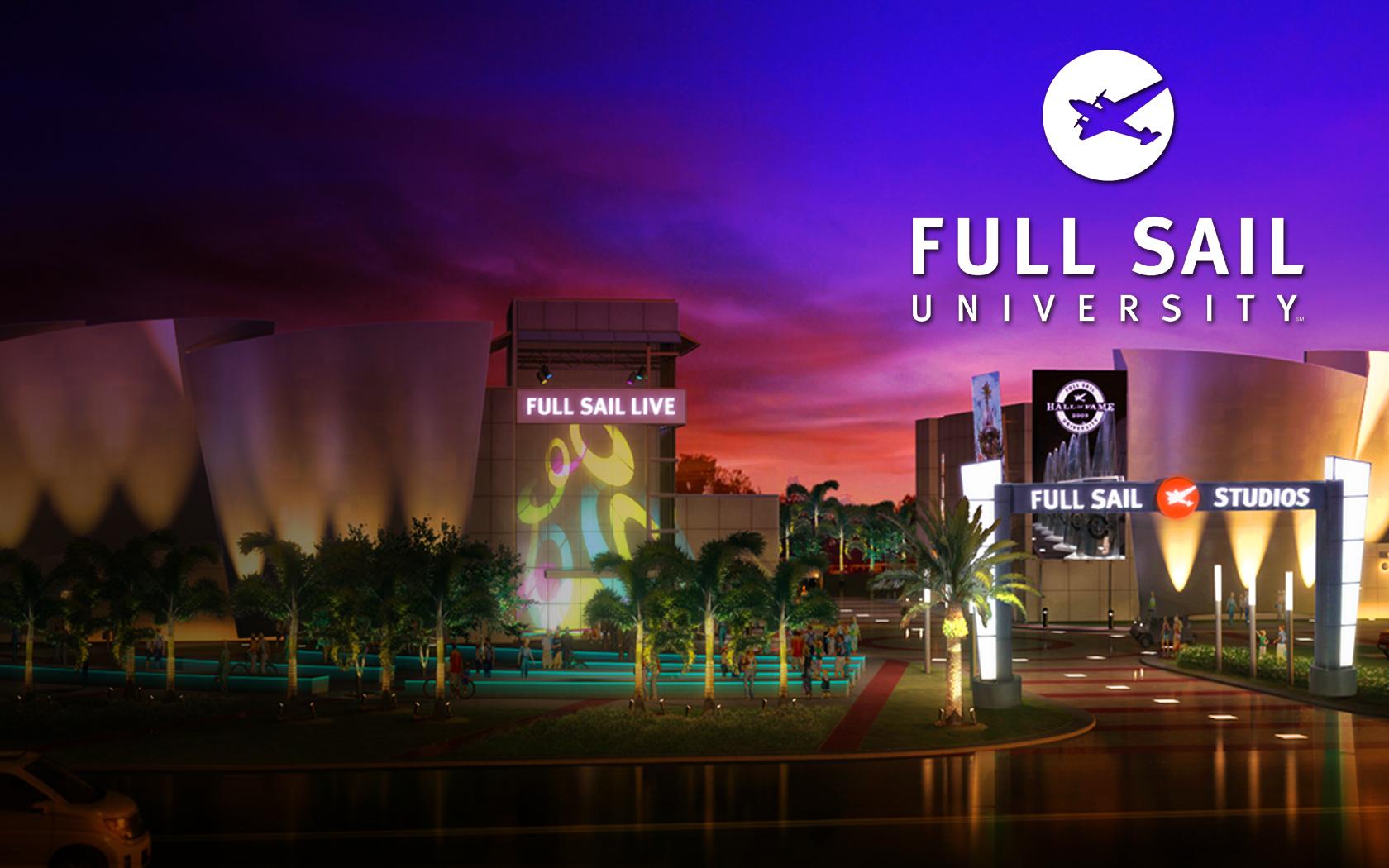 Tuition: About $23,000 per year
Program length: minimum of 29 months for a B.A.
Graduation rate: 44%
Accreditation: Accrediting Commission of Career Schools and Colleges
Awards and accolades:
Rank on TheBestSchools.org: 4
Rank on Graphic Design Degree Hub: 4
Every part of Full Sail's degree program is designed to look, feel, and function like your industry. Active professionals regularly work with Full Sail to keep their degrees relevant, and educators continuously contribute to to their fields. To showcase your expertise to future employers, Full Sail puts a strong emphasis on portfolio projects. And to help you hit the ground running and adapt to the 24/7 nature of your industry, you can choose to complete a degree program at a faster pace than you can at other schools.
Here's how they describe the program:
"The objective of the Graphic Design bachelor of science degree program is to provide a comprehensive understanding of the field of design–from print publishing to interface design and more. You'll sharpen your eye for aesthetics through projects, critiques, and the study of popular culture. In addition to technical proficiency and creative development, your education will help you hone real-world skills such as media integration, advertising, and branding.
"Ongoing portfolio courses will provide you with opportunities to build tangible projects that showcase your talents, and integrated career development modules will help you strengthen your professional skills. In addition, our Career Development advisors and services will be available for support throughout your graphic design career path–not just while you are a student."
Every Full Sail student receives a MacBook Pro, along with professional software and tools through Project LaunchBox. Your computer is your personal studio and prepares you for the technological challenges of your industry.
Both campus and online students use Full Sail's customized learning system. It's designed from the ground up to accommodate Full Sail's unique educational model and multimedia projects.
Full Sail graduates have gone on to work with:
Disney
Dreamworks
PIXAR
Universal Studios
CNN
Blizzard Entertainment
Rockstar Games
ESPN
HBO Studios
NFL Films
Nickelodeon
WWU
Cirque du Soleil
And more . . .
See what Full Sail's graduates have accomplished over the last 35 years in the "hall of fame."

Tuition: About $17,000 per year
Program length: 15 quarters to earn B.S., 8 quarters for A.A. or A.S., 4 quarters for diploma
Graduation rate: 8%
Accreditation: Middle States Commission on Higher Education
Awards and accolades:
Rank on Graphic Design Degree Hub: 3
Rank on TheBestSchools.org: 6
You may have noticed that The Art Institute of Pittsburgh has a very low graduation rate. They're not shy about that:
"Because it's tough out there, it's tough in here. But we temper the tough with the support you need to make your creativity marketable. We provide the mentoring and real-world experience you need to prevail, with faculty who've worked in the field and internship possibilities at successful businesses. Here, you'll be encouraged and expected to be bold."
This almost 100-year-old school isn't for people who are on the fence about design. Their online division is has been around for nearly two decades, and it builds on the same academic and creative tradition of excellence practiced by The Art Institutes system of schools since 1921.
The Art Institute of Pittsburgh provides a program that covers both web and graphic design, and you'll specialize in one or the other after your first year.
Here's how they explain the two options:
"Both graphic design and web design are really about coming up with new approaches to solve problems. So you'll start with the basics of both in areas like color, illustration, and image manipulation, then explore concept development and implementation courses. . . . In Graphic Design, you'll take a more traditional approach, studying product packaging, posters, art direction, and layout design. You'll work on product packaging, posters, and interactive media, including web page design. You'll work with professional technology, including image manipulation software and computer-aided design, then progress to art direction and strategies for designing a product, service, or message. If you choose Web Design, you'll work across media platforms from mobile devices to desktop computers. This is screen-based visual communication involving interactive design and development using industry software, authoring systems and web scripting. You'll explore emerging technology, work with audio and video, and more."
Whichever concentration you choose, you'll take courses in:
Color and design fundamentals
Image manipulation
Traditional typography
Layout and concept design
Web page scripting
Digital illustration
Interactive motion graphics
If you choose a graphic design concentration, you'll also explore:
Advertising concepts
Form and space, including advanced layout design
Package design
Business of graphic design
Publication design
Art direction
With a web design concentration, you'll take courses in:
Information architecture
Interface design
Audio and video
Design for mobile devices and emerging technologies
Web page design
These concentrations are sometimes referred to as a print concentration or interactive design concentration, which may be a more accurate reflection of the course content.

Tuition: About $4,000 in-state, about $17,000 out-of-state
Program length: Not listed
Graduation rate: 87% (on-campus)
Accreditation: Southern Association of Colleges and Schools
Awards and accolades:
Rank on AffordableCollegesOnline.org: 2
If you live in Florida, this is the most affordable of the top graphic design schools. For everyone out of state, however, the UF tuition cost is only a little below average. University of Florida's graphic design program encourages students to focus on developing their passions and interests, rather than moulding them to fit a particular career.
Here's what they say that looks like:
"At UFGD, you learn design principles and processes in a constructive and collaborative environment. We are here to help you succeed as a designer and apply your knowledge to a wide range of problems and opportunities. Designers create culture and shape our world and we help you develop your voice and create your own path with design.
"The curriculum emphasizes concept development, design process, design systems, strategy, and professional development. Our capstone course culminates with a professional portfolio and promotional materials. UF Graphic Design graduates are extremely competitive in the job market and go on to work in a number of design-related fields, and often build careers where they move within systems of design and between mediums."
You can see some of the work UFGD graduates and students are doing on their Facebook page, or check out the highlights from University of Florida's annual student design exhibition, Ligature (see more past events here).

Tuition: About $17,000
Program length: 123 credit hours
Graduation rate: 46%
Accreditation: Higher Learning Commission, National Association of Schools of Art and Design
Awards and accolades:
Rank on TheBestSchools.com: 3
One of the challenges of most online programs is that it's easy to feel disconnected from your classmates and professors. RMCAD believes their virtual learning environment promotes collaboration with classmates and real-time feedback from your professors, promising you'll maintain "consistent contact with professors throughout the course of your online art classes."
Like many of the programs above, these professors are practicing industry professionals, making that consistent interaction a valuable part of your experience. Practicing graphic designers are going to be able to give you some great professional contacts and career advice if you prove yourself worthy.
RMCAD has a great perspective on the importance of the graphic design industry as well:
"Graphic design is the marriage of form, function, and imagination to create a visual language. But innovative design isn't just nice to look at—it has a significant impact on the way we live our lives.
"As a graphic designer, you're fulfilling the universal need for visual communications. Our graphic design degree goes far beyond just visual aesthetics—you'll be trained to account for the overarching design systems that go into a user's experience."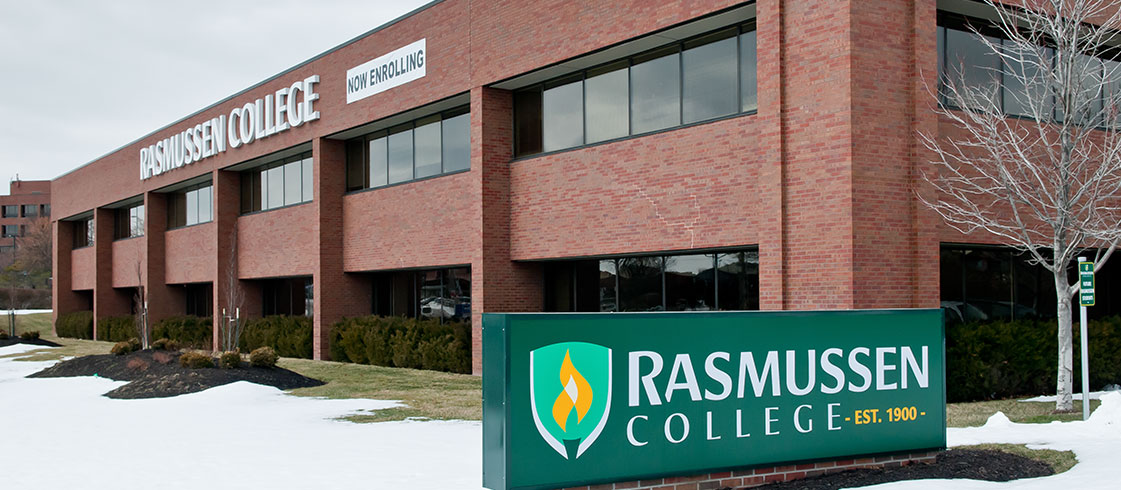 Tuition: About $9,000
Program length: About 36 months for B.A., 18 months for A.A.
Graduation rate: Unavailable
Accreditation: Higher Learning Commission
Awards and accolades:
117 years of successful graduates
Rank on Graphic Design Degree Hub: 5
Rasmussen College's online graphic design program offers two specializations: "animation and motion graphics," and "web and interactive design." To help you transition from academia to the professional field, the program culminates in your choice of either an internship course or a final project course.
It looks like Rasmussen College's online courses are generallyless flexible than most of the programs listed above, but they do have a "Flex Choice" option that appears to adopt the self-directed model used by most other schools (it's also quite a bit cheaper).
Your tuition covers more than classes. According to the website, "All the tools you need to stay relevant in your industry and the most up-to-date software and hardware is included in your tuition." Plus, you can take optional tests to receive three industry-specific certifications for free, including the Adobe Certified Associate: Visual Communication certification.
Here's how they describe their program:
"Our online graphic design degrees reflect the most up-to-date skills, technologies and competencies of the design field, including traditional print design, typography, color theory, photography, audio/video editing, interactive media and user experience design."
Fun fact: Rasmussen College has 22 campuses in six states! See if there's one near you (even as an online student, this could mean better access to professors or resources).
Should you get a BA in graphic design, or a BS?
A bachelor's in graphic design can come as either a bachelor of science or a bachelor of arts. Don't focus too much on this—choosing the right school is more important. But here's a quick comparison of a BA and a BS if it helps.
Choose the school that's right for you
A top-notch design degree will prepare you for a fulfilling career in graphic design. If you already know exactly what you want to do in the field, you'll want to choose the school that's best suited to take you in that direction. But if you're still deciding what a career in graphic design could look like for you, plenty of these schools can help you discover the applications that most interest you.
We hope this list helps you make the decision that's right for you. Good luck in your academic career!