The Internet is changing the recruitment game. Students have greater access to more schools than ever before. And when they search for the best degree programs in subjects your college excels at, it's important that they find you.
Being featured on GradLime puts your school and programs in front of thousands of students who are making important decisions about the next step on their educational journey.
Here are some ways that you can capitalize on your GradLime ranking:
1. Write a press release
Being featured on one of our lists gives you an excuse to talk about your prestigious program publicly. Odds are this isn't your first rodeo, but it's worth saying: a well-written press release can give you a lot of attention for minimal effort. You just have to turn this moment into a compelling story.
Local news outlets and blogs are more likely to share your press release because your success makes your community look good. But everyone loves a good story, and a press release can attract attention that reaches well beyond your city. (Your success can make your state look good, too.)
We shared some highlights about you in our list, but obviously, there's a lot more to say. You can use your ranking on GradLime to talk about what's been happening in your program lately and what sets it apart. You could have your department chair discuss why this program is consistently popping up on degree ranking sites, or why this subject is so important to the next generation of students. You could have current students share what being part of such a strong program means to them. Bottom line: this is an opportunity to brag about yourself. Take it!
Statistics are another great addition. How many students are enrolled in your program? Is that more than last year? How many classes are there in this subject? What's the graduation rate, and what does that say about your program? Is it competitive? Are you producing tons of qualified graduates in this field? What do your students go on to do? (Boom. Now you're sharing a quote from an alumni.)
There are lots of directions you can take this. Be sure you include high quality photos of your school, faculty, or students (it gives your release a better chance of spreading on social media).
2. Add the GradLime badge to your program's website
When prospective students arrive at your website and find a degree program that they're interested in, what's the first thing they see?
What if it was this?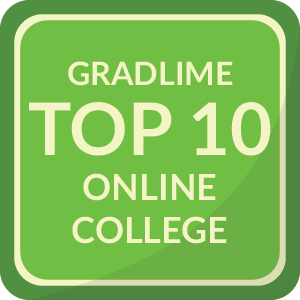 Or this?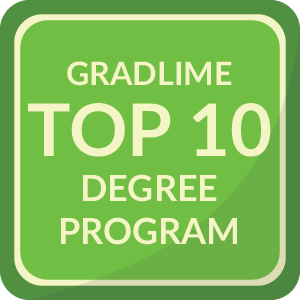 We've looked at hundreds of degree program websites, and while we've determined that you're one of the best, you should know: every school says their program is one of the best. Prospective students often have to hunt to find an endorsement that doesn't come from the school itself.
Fortunately, these students don't just have to take your word for it. The best schools shouldn't have to say they're the best. Now you can add this badge to your program's website to show students that after scoping out the other options, we think you're one of the best, too. And you can even link the badge to our list to prove it.
Make this badge part of your digital trophy case!
3. Email donors, alumni, and prospective students
You've put a lot of work into developing a strong network of donors and alumni. And both of these groups want to see you succeed. A new accolade is a perfect opportunity to remind donors that their resources are contributing to something significant—their donations make it possible for future generations to get a top-rated education. And alumni will feel validated by the reminder that they earned a degree from a prestigious school.
Donors and alumni alike are happy to share about your success—because your success is their success.
But this isn't just an opportunity to connect with donors and alumni. A new accolade is also a chance to tell prospective students more about your degree programs. They want help deciding on the right school and program. They're used to hearing schools say "We're the best." But this is your chance to let someone else—us—say it for you.
Your recruiters can always use fresh material. A third-party list that puts you among the top schools in the country is an easy win for them. Why not work this list into the resources they share with parents, teachers, and students?
You could even use a modified version of your press release to email any of these groups. However you share it, this award can help you revitalize your donor pool, encourage your alumni network, and inspire prospective students.
4. Share the news on social media
Social media is the easiest opportunity for you put your school in front of the right people. People use social media to talk about their lives, and over the years, your school has impacted the lives of thousands of people. So when you show off an award, it's a chance for students and alumni to show off, too. Just drop a link to the list you were featured in and call out your ranking. "We were just rated one of the top 10 ___ programs in the country!"
Social media provides unique opportunities to connect with (and grow) your audience. If you have a special group for the program we featured, this is the perfect place to pick up some momentum. You could ask these students to share the list along with something they love about your program, why they chose your school, or the most valuable thing they've learned through your program. (You could even encourage them to say why you should be higher in the rankings!) You could also capitalize on a trending hashtag, or create a new one.
This award is an opportunity to create conversations about your school all over the Internet, and social media can make that happen.
Current and former students appreciate seeing that their school is at the forefront of academia, and prospective students will want to check out the program you were featured for. Everyone knows someone who's interested in the degree program you were featured for. By sharing your award on social media, you're handing people an opportunity to help a friend or family member plan for their future.
Accolades also work well for advertisements. Social media lets you create targeted advertising, so you can find people whose interests overlap with your program and show them what makes you  one of the best schools for people like them.
Here's what you can say about GradLime
This is about you. But your award means more to people if they know who you got it from and why. You'll probably want a short blurb at the end of a press release or blog post that tells people where your new endorsement came from, and why it matters.
Here's an example of what you could say:
"gradlime.com helps ordinary people find extraordinary schools. They're a team of college graduates who want you to learn from their mistakes and find the schools that are truly right for you—which they believe no one else should decide for you. They use data to rank top schools in the country, so you can choose from the best of the best."
Of course, you're also welcome to pull from our about page or say whatever else you'd like.
We hope this new accolade creates more opportunities to celebrate the work you're doing, and that it helps lead more students to your program.
Congratulations!